The Malaysian Action Research Network
We aim to promote and advance action research as a legitimate philosophy and methodology in Malaysia, providing encouragement and support for action researchers at all levels to conduct rigorous and evidence-based work.
Artwork | The Symbol of Nationhood
The philosophy of education in Malaysia is not just to produce individuals who are intellectually, spiritually, emotionally, and physically balanced, but also to produce citizens who are able to contribute to the harmony and betterment of the nation. Education plays an important role in fostering a spirit of love for the homeland as well as nurturing a strong identity in each individual to ensure the stability of the country's present and future. This
image
shows the spirit of love for the homeland, expressed by the Sea Dayak's students through singing a song of freedom while proudly waving the national flag of Malaysia called 'Jalur Gemilang'. This celebration was the highlight of the 53rd Malaysia Day observed every year on 16 September and has become an annual event that has been implemented in every
school
. The
image
was captured by Mohd Hanafee Mohd Zaki in Sekolah Kebangsaan Nanga Sengaih, Julau Sarawak. If you want to feature your artwork, please email info[a]marnet.my with a description.
Upcoming Event | International Conference
INTERNATIONAL CONFERENCE ON ACTION RESEARCH (ICAR 2022)
The Malaysian Action Research Network (MARNet) is are proud to present an International Conference on Action Research (ICAR 2022), from 3-6 September, 2022. This virtual conference aims to bring together practitioners, professionals, academics and researchers from various backgrounds and disciplines, including education, nursing, social work, allied health professions, business and management, computer science and the criminal justice sector. The conference will feature four keynotes from prominent national and international action research scholars, three engaging and contextualised action research workshops, and hundreds of research and practice-based presentations. The conference seeks to provide a space for the presentation of current findings on scientific practices using a variety of action research paradigms, philosophies and methodologies, including, but not limited to:
The purposes and objectives of the International Conference on Action Research (ICAR 2022) are:
The theme of the conference is "Transforming Practices", which seeks to encourage practitioners to transform the world by transforming their practices and the practice architectures that shape them. It also offers practitioners the opportunity to contribute to contemporary practice theory. One of the key aims of action research is to change our practices, understandings of our practices, and the conditions in which we practice. Transforming our practices means transforming what we do; transforming our understandings means transforming what we think and say; and transforming the conditions of practice means transforming the ways in which we relate to others and things, as well as the contexts we find ourselves within. In particular, this theme is inspired by Stephen Kemmis's (2022) work on the theory of practice architectures, which describes how practices are shaped by various semantic, social and physical factors.
Mat Noor, M. S. A. (Ed.) (2021). Annual Report 2021. Malaysian Action Research Network. https://www.marnet.my/annual-report-2021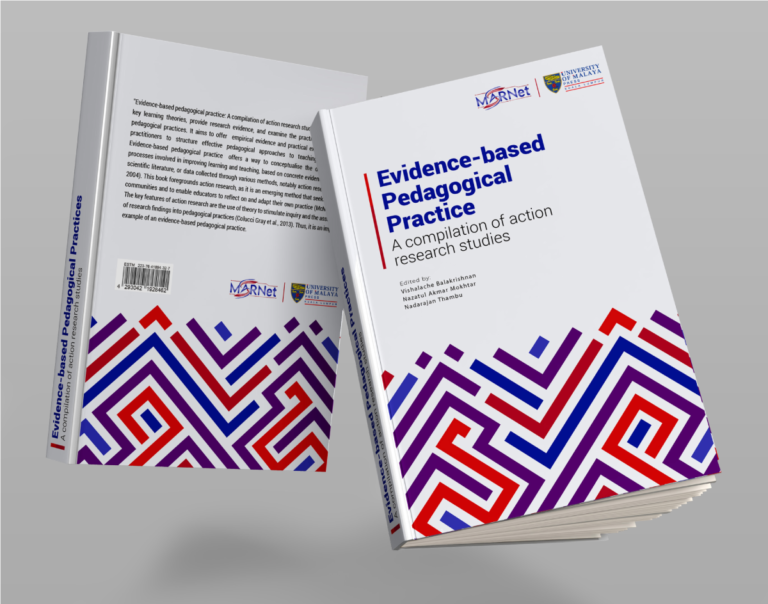 Update 16 August 2022: The editors are currently reviewing and editing all submitted manuscript.
Evidence-based pedagogical practice: A compilation of action research studies
Evidence-based pedagogical practice offers a way to conceptualise the decision-making processes involved in improving learning and teaching, based on concrete evidence from either scientific literature, or data collected through various methods, notably action research (Elliott, 2004).
This book foregrounds action research, as it is an emerging method that seeks to involve communities and to enable educators to reflect on and adapt their own practice (McNiff, 2017).
The key features of action research are the use of theory to stimulate inquiry and the assimilation of research findings into pedagogical practice (Colucci‐Gray et al., 2013). Thus, it is an important example of evidence-based pedagogical practice.
The Malaysia Action Research Network (MARNet) and Centre for Research in International and Comparative Education (CRICE), University of Malaya invites teachers, educators, lecturers and practitioners who are MARNet members to contribute to this book proposal.
Feedback from International Action Research Scholars about our MARNet Conference 2021
MARNet Conference 2021 was held from 5 – 9 October, in conjunction with the CARNival 2021 and collaboration with the Collaborative Action Research Network (CARN), United Kingdom.